Fri, September 23, 2011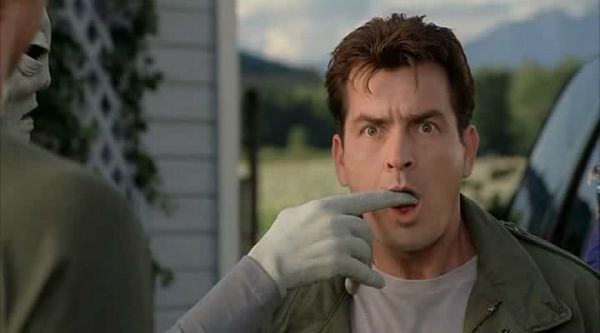 It's OK to admit you were one of the twenty-eight million people who watched the Two & a Half Men season premiere. Hey, curiosity gets the better of us and Lord knows the Charlie Sheen-absent, Ashton Kutcher-replacing episode felt surprisingly less awkward than last night's The Office premiere with James Spader and Ed Helms taking over in place of the exiting Steve Carell.
While Sheen pretends to be nice and sober (as to convince networks he won't pull the same crap that got him fired from Two & a Half Men so they'll pick up the proposed Anger Management series), there's still movie work on the horizon, specifically a high-profile sequel to one of his more successful features. No, not Major League 4, but, Lord save us, Scary Movie 5.
Sources tell TMT that Sheen's taken up Harvey Weinstein on his public offer back in March and negotiations are underway for him to appear in the fifth Scary Movie installment due in theaters next April.
Cue more assholes spewing, "Winning!" jokes, references to tiger-blood and even more glorification of his self-destructive attitude. Because who cares that the man has parents watching in horror knowing there's nothing they can do to stop him for his own good or four small children who will one day have to read about all of this? Yeah, fuck that bullshit as long as you can joke about it on Comedy Central celebrity roasts.