Sun, October 14, 2012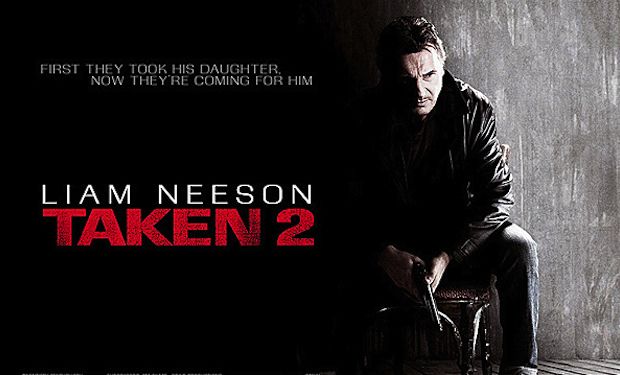 Courtesy of Box Office Mojo:
1. Taken 2 - $22.5 million
2. Argo - $20.1 million
3. Sinister - $18.2 million
4. Hotel Transylvania - $17.3 million
5. Here Comes the Boom - $12 million
6. Pitch Perfect - $9.3 million
7. Frankenweenie - $7 million
8. Looper - $6.3 million
9. Seven Psychopaths - $4.2 million
10. The Perks of Being a Wallflower - $2.1 million
Liam Neeson ruled the box office again this weekend as Taken 2 held on to the top spot, earning an estimated $22.5 million in its second weekend. Its domestic total now stands $86.7 million, and it continues to do even bigger business overseas, where it's earned $132 million. So I guess there will be a Taken 3?
Coming in a close second was the Ben Affleck Iranian hostage drama Argo, which opened with an estimated $20.1 million. With an "A+" Cinemascore rating, word-of-mouth should carry this one well for the next few weeks. Right behind that was the horror film Sinister, which opened well with $18.2 million, although that's probably the best it will see with Paranormal Activity 4 opening next weekend.
While audiences can't seem to get enough Liam Neeson, they do seem to be somewhat over Kevin James, as his latest comedy, Here Comes the Boom, flopped with only $12 million for the weekend. To put that in perspective: even Zoopkeeper opened with $20.7. So that wasn't good. At least James still has Hotel Transylvania, which had another great weekend, earning $17.3 million.
The worst showing in this week's top ten was Seven Psychopaths, which earned only $4.2 million. Also not impressing anyone was the second part of the Atlas Shrugged trilogy, which tanked in 11th place, earning only $1.1 million.
Next weekend, its found-footage galore as Paranormal Activity 4 opens in theaters. Joining it is The Sessions, which is already generating a ton of Oscar buzz, as well as Tyler Perry's take on the Alex Cross series.