Thu, March 22, 2012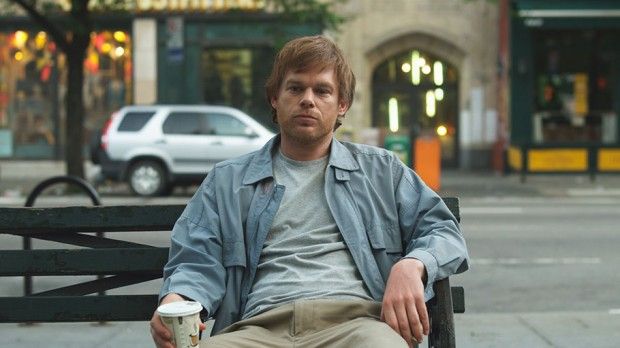 Essentially, this is another middle-aged-guy-in-a-rut story, but it's not bad. Based on the novel East 5th Bliss by Douglas Light, Michael C. Hall stars as Morris Bliss, a 35-year-old still living in his childhood bedroom in his father's apartment on New York's Lower East Side. The centerpiece of his bedroom is a map covered with pushpins of all the cities of the world he wants to visit but will likely never travel to. He has no job, he's entirely dependent on his father (Peter Fonda) - who he still refers to as "Daddy" - and doesn't seem of have a single aspiration to be anything but the loser he appears to be. Even the 18-year-old high schooler he's dating (Brie Larson) wasn't by his own doing - she was the one who picked him up.
However, it's the midlife crisises of everyone around him: the best friend (Chris Messina) who's always inventing stories about being involved with international drug cartels, the sexually frustrated neighbor (Lucy Liu), the loser high school buddy (Brad William Henke) wanting to re-live their adolescent troublemaking glory who also happens to be the father of Morris' teenage girlfriend, that ultimately teach him how to break out of his perpetual rut and finally grow up.
I'm not sure how much you're supposed to like the other characters. The girlfriend was a brat (and, well, a teenager), the neighbor was clearly using him, the high school buddies were losers. There's also a strange subplot about a woman moonlighting as a homeless squatter that didn't quite feel like it belonged with the rest of the story. The combination of all of them left Morris surrounded by people who were more lost than he was and he was just finally realizing it.
Directed by Michael Knowles, The Trouble With Bliss doesn't really tread new ground storywise, but the performances were decent enough, particularly Hall's, especially as he starts becoming a participant in the world he's living in. His reaction just to seeing a local supermarket he'd never been to before was hilarious. Larson's teenage girlfriend has a few good moments as well, although the movie seems to go out of it's way to remind the audience that she is 18 and that their relationship isn't as creepy as it sounds.
At its heart, the film is simply about a guy trying to get his act together, and it mostly works, even if it's a story we've heard before. Again, it's really worth it for Michael C. Hall's performance.
The Trouble With Bliss opens in New York and On Demand on March 23, and additional cities nationwide starting March 30.