Tue, January 13, 2015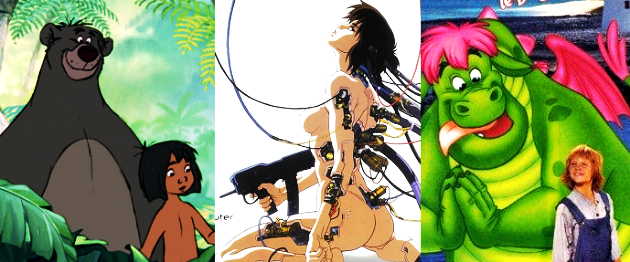 Mark your calendars if you're a fan of Scarlett Johansson pretending to be a cartoon character, as Disney has dated it's anime adaptation under it's Miramax banner, Ghost in the Shell, to April 14, 2017 which shockingly doesn't have a single Fast/Furious or comic book film opening that weekend.
The film follows a Section 9, a high-tech security division led by a beautiful and deadly cyborg commander (Johansson), as they track down a cyber-terrorist known as The Puppet Master, which draws them into a web of political corruption and intrigue.
If you're a fan of CGI animals though, John Favreau's The Jungle Book has been kicked from it's October 2015 slot, and will now open in April of 2015, Deadline reported earlier this evening.
The film, which chronicles a young boy raised in the wilds of the Amazon with the help of a pack of wolves, a bear, and a black panther and stars Bill Murray, Ben Kingsley, Idris Elba and Johansson (she's really busy).

Pete's Dragon, a remake of the 1970 film, will also open in August of 2016, and details the story of Pete, an orphan, and his best friend Elliot, an invisible green dragon in a whimsical journey through a small sea-side town.

All of these films will likely allow for billions of dollars to flow into the Disney money tank to fund at least 30 more years of Avengers and Star Wars.