Thu, August 30, 2012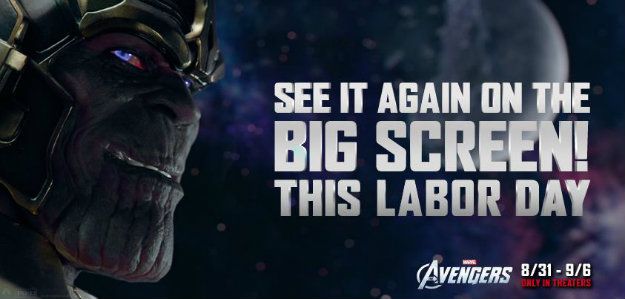 Making gazillions of dollars, and arguably stealing The Dark Knight Rises' thunder (To be fair, in a perfect world where dickless, fucktard coward James Holmes was never born, the grosses would have been a lot closer still with Earth's Mightiest Heroes winning) wasn't enough for The Avengers.
As we approach Labor Day weekend, a typically slow time at the box-office, Disney/Marvel is putting The Avengers back in theaters. So if you haven't seen it enough already or, like me saw it once, liked it but remembered "Everything & the Kitchen Sink" filmmaking is not a good thing, here's your chance to help Joss Whedon dethrone Titanic.
Maybe they'll use this as an opportunity to premiere Iron Man 3 footage?