Sun, August 19, 2012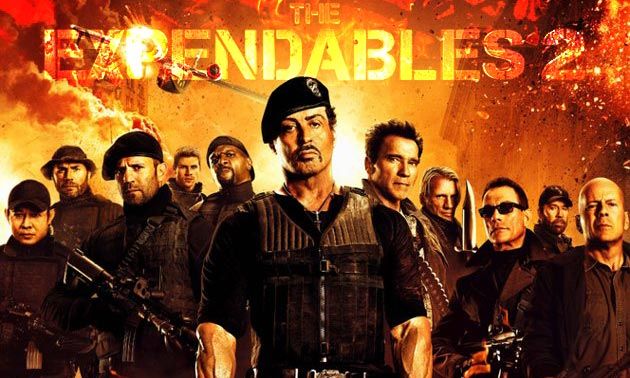 Courtesy of Box Office Mojo:
1. The Expendables 2 - $28.7 million
2. The Bourne Legacy - $17 million
3. ParaNorman - $14 million
4. The Campaign - $13.3 million
5. Sparkle - $12 million
6. The Dark Knight Rises - $11.1 million
7. The Odd Life of Timothy Green - $10.9 million
8. Hope Springs - $9.1 million
9. Diary of a Wimpy Kid: Dog Days - $3.8 million
10. Total Recall - $3.5 million
I'll refrain from an Ah-nuld style "I'm back!" here, since, although The Expendables 2 opened in first place with an estimated $28.7 million, that a not-so-good 21% drop from the $34.8 million the first film opened with in 2010. There are a few factors figuring into this lower-than-expected opening: a movie theater chain was hit by a couple of bomb scares this weekend, and while those turned out be false alarms, it was not encouraging news for audiences who are reportedly still leery about returning to the multiplex after the tragedy in Aurora.
Or it could just be that they weren't as interested in seeing another Expendables movie, with is the most likely culprit here. Time will tell if we'll get to see an Expendables 3.
The Bourne Legacy has finally caught up to the opening weekend of the last Bourne film, with its $17 million weekend bringing its domestic total up to $69 million, a 55% drop from last weekend.
The animated ParaNorman opened with an ok $14 million, as the creepy kid's film likely scared off the youngest audience - when I saw Brave earlier this summer, the ParaNorman trailer seemed to terrify half of the little ones in the theater.
Another release, a remake of Sparkle, starring American Idol's Jordin Sparks, and of course, the late Whitney Houston didn't bring too many fans, earning just $12 million.
The biggest disappointment of the weekend was The Odd Life of Timothy Green, which has only earned $15.1 million since opening last Wednesday.
Finally, the milestone of the weekend goes to The Dark Knight Rises, which passed the $400 million mark domestically this weekend, pushing it past The Hunger Games to become the second-highest grossing film of the year. Worldwide, the movie has earned $897 million.
Next weekend sees Joseph Gordon-Levitt as an embattled bike messenger in Premium Rush, as well as the road-trip comedy Hit & Run, and one of those dumped-at-the-end of the summer horror films, The Apparition.