Tue, July 24, 2012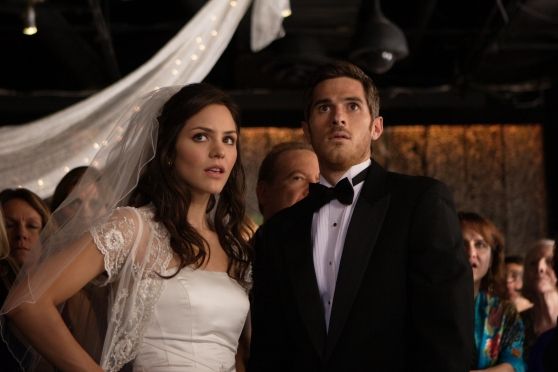 Freestyle Digital Media (FDM) and Hawaii Film Partners Distribution (HFPD) have joined forces to release the new tropical adventure-comedy-romance YOU MAY NOT KISS THE BRIDE, written and directed by Rob Hedden ("Clockstoppers"). The film, which was produced by Rann Watumull, Gina Watumull, David Jackson and Shauna Shapiro Jackson, stars Katherine McPhee ("Smash"), Dave Annable ("Brothers and Sisters"), Rob Schneider ("Grown Ups"), Mena Suvari ("American Beauty") and Kathy Bates ("Midnight in Paris"). YOU MAY NOT KISS THE BRIDE is slated for a red carpet destination premiere in Honolulu, with its U.S. mainland theatrical release to follow in additional markets including Los Angeles, Chicago and Dallas.

YOU MAY NOT KISS THE BRIDE is a charming tale of adventurous high jinx and budding romance involving an unassuming pet photographer (Annable) who is thrown head first into a series of unforeseeable events when he's forced to marry a Croatian mobster's daughter (McPhee) and spend his honeymoon at a secluded Tahitian resort where the bride is kidnapped.

The deal was negotiated by FDM's CEO Susan Jackson; Mark Borde, Co-President of Freestyle Releasing; and the principals of HFPD, David Jackson, Rann Watumull, Gina Watumull and Shauna Shapiro Jackson.

Said Susan Jackson: "This is a hilarious film with a fantastic cast and we are delighted to team up with Hawaii Film Partners on the domestic distribution of the film." Added Rann Watumull: "Freestyle is exactly the type of company we wanted to partner with because it provides smart theatrical distribution expertise and accountability in a collaborative working environment."

The film, which was shot on location in Honolulu, Chicago and Los Angeles, has also been licensed in virtually every territory outside the U.S. and boasts an impressive supporting cast including Tia Carrere ("True Lies"), Kevin Dunn ("Luck"), Vinnie Jones ("Kill the Irishman"), Stephen Tobolowsky ("Groundhog Day") and Ken Davitian ("Borat").