Mon, August 5, 2013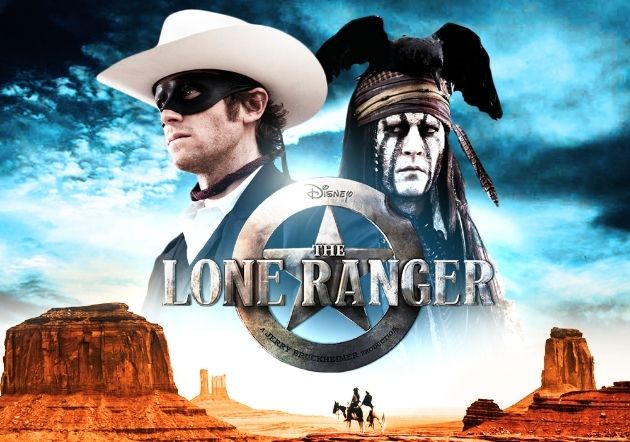 Like really? Was it because you were too busy seeing your dumb little kids movie, Despicable Me 2? yeah well, I saw the first one with my ex-girlfriend so I can't look at CGI Steve Carrell without getting really upset and wanting a nice tall cold-one, so that's why *I* didn't go, and instead saw the fantastic The Lone Ranger.
And that's what Johnny Depp, Armie Hammer, Jerry Bruckheimer, and Gore Verbinski want you to do: Say fuck the critics, and Go see The Lone Ranger! Well. If you live in Europe.
"It's unfortunate because the movie is a terrific movie, it's a great epic film. It has lots of humor. Its one of those movies that whatever critics missed in it this time, they'll review it in a few years and see that they made a mistake."
Doing the press rounds for this summer's tragically flopping adventure film, Depp and Co. took to explaining why the critics killed The Lone Ranger, and you know, they're right.
"This is the deal with American critics: they've been gunning for our movie since it was shut down the first time," Hammer said, "That's when most of the critics wrote their initial reviews."
I remember when this movie was "put on hold" and I'm like "Shit I want to see that", but all of you balding fat "nerds" went to the internet with shit like:
LOL JOHNNY DEPP SUCKS SO MUCH, DISNEY SUCKS, LOL JOHN CARTER , LOL DEPP AS AN INDIAN?! I"M SO OFFENDED B'AWWWW I WANT MORE BATMAN.
And then closer to release, the worse it got. Everyone tried so hard to ruin this film, for whatever reason, then acted like it was Disney's fault for making a good movie. Of course if you ask the "internet elite" movie critics they'll all tell you it was "mindless shitty drivel" then turn right around and have The Avengers or The Dark Knight Rises on their Top 5.